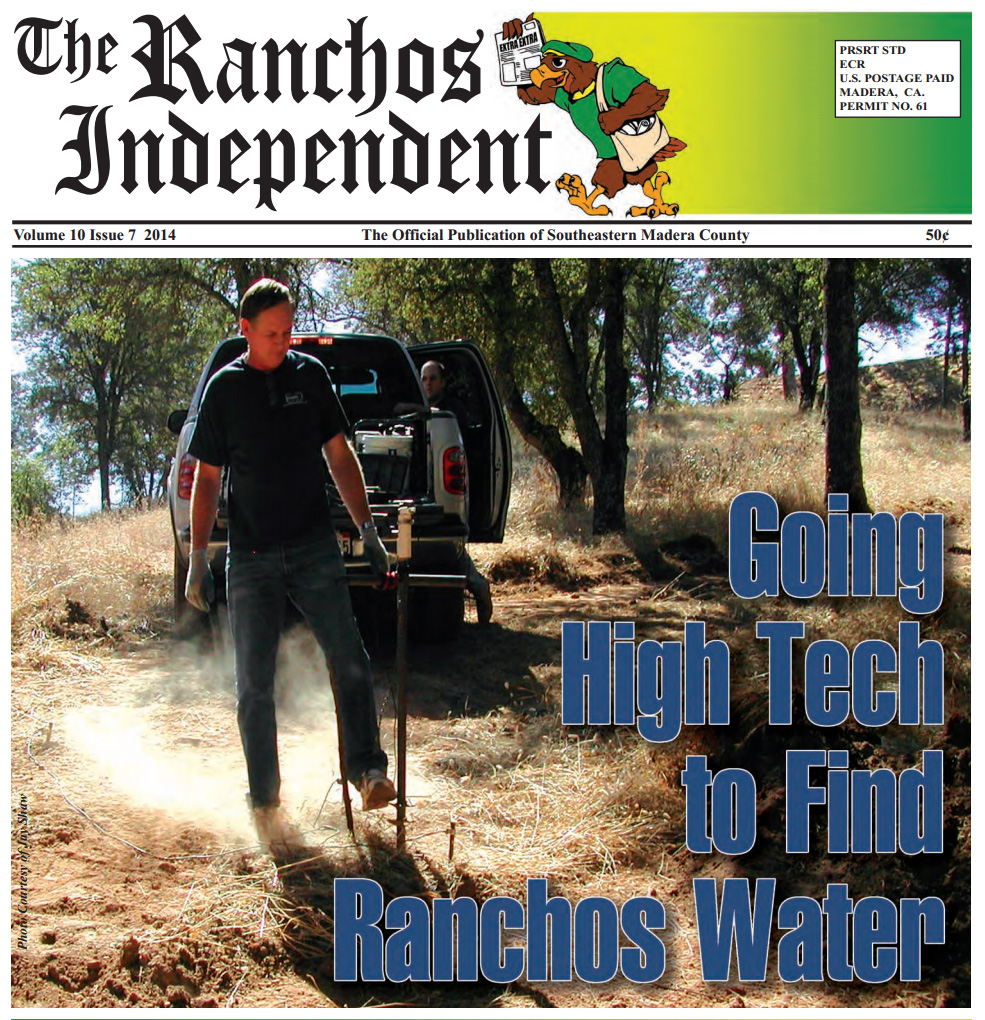 By Karen Petryna
Off in the distance all you hear is seemingly muffled shotgun blasts. You're tempted to check the date to see if dove season has opened and you somehow missed it, but what you're really hearing is water being discovered. The water witchers have gone high tech.
As Jay Shaw, co-owner of National Groundwater Surveyor with his wife, Bonnie, prepares to explain the technology for finding water at depths of up to 1,500 feet, he first tells how it was his search for water when they were building their home on five acres in Clovis the led him down this path.
It was about 13 years ago that the Shaws were building their country home in Clovis. The well they were using during construction suddenly went dry. "We used water witchers and dowsers," Shaw said about their search for water. What they ended up with was five dry holes. "One was 1,000 feet deep," he said.
A Little History
Water witching, or dowsing, is an ancient practice where the practitioner holds wooden sticks or metal rods in their hands as he or she moves about a property. Supposedly when water is detected the sticks or rods begin to bow or cross, indicating where to drill. Unfortunately, science has repeatedly shown the practice to be questionable. One researcher in the early 90s calculated that the best dowsers were only .04 percent more accurate than a "mid-line guess."
Shaw found a company in Washington State that used electro-seismic equipment. He persuaded them to come to Clovis and amazedly watched as they successfully located water that the Shaws were able to drill. Shaw, a general contractor at the time, was so impressed with the technology and the results that he decided he wanted to get into the water finding business for himself, figuring he could find wells for people and then build their homes for them. But, it was not to be. Just three months after buying the equipment and receiving full training, he found he had no time to open blueprints anymore. Shaw ended up in the water-finding business full-time.
The process for finding water is fairly straightforward. His equipment, which all fits in his 4-wheel-drive pickup, can detect water down to about 1,500 feet by generating a pressure wave that causes an electrical response. Shaw surveys the general area where the property owners have determined they would like a well. He then flags five locations about 70 feet or less from one another. At each location he drills a two-foot-deep hole and inserts a black powder charge, which is basically a 12-gauge shot gun shell without the shot. Four antennas are then connected to the holes. When the shells are detonated, they create a downward pressure wave. It is the unique signature of this wave that is picked up by the antennas and fed back to the proprietary software. Shaw knows that certain signals from the pressure wave have certain characteristics when moisture is encountered in the ground. He explained that his computer only gets a signal on moisture and, like an EKG, the signal "jumps" for moisture or remains as a "flat line" if none is detected. The analyzed data gives an indication of high total dissolved solids or salinity because the signal looks different – it shorts out – but the process cannot detect if the water contains other compounds such as sulfur or boron, for example.
Collecting Raw Data
What Shaw collects on-site is raw data. Based on his experience, he's gotten pretty good at reading the raw data he collects, however it still needs to be analyzed by the processor and double checked by his geophysicist, Ronald Sorensen. Sorensen has over 30 years of geophysical experience both in California and abroad. Not only is he fully trained in the proprietary Seismo-Electric Survey Instrument system Shaw uses, he also serves as an expert for the State of California for their professional geophysical test evaluations. Sorensen's conclusions, along with Shaw's findings, go into a report prepared by Shaw that indicates the estimated depth and yield of groundwater based on a specific well diameter. Shaw says the process is a little more complicated for larger wells, such as ag wells. In that case, it's necessary to have an existing well to use for calibration so that he knows what a large amount of water looks like in the particular formation at hand.
Repeat Customers
Shaw said National Groundwater Surveyor operates all over California and as far as Oregon and Nevada. He also trained his brother who now performs the same service in Southern California, Arizona and New Mexico. It certainly takes him all over the Central Valley. Shaw had just returned from a job in Gustine where he was looking for water for a cattle rancher. The rancher was a repeat customer who just four months ago had used Shaw, drilled to the designated depth and achieved the expected yield. Shaw said he gets a lot of repeat customers in the ag and cattle industry simply because he's so successful that clients call him back when they're ready to drill another well. The following day, Shaw said he would be working for one domestic client in Castro Valley and another in Livermore whose wells had gone dry. After that he was going to look for groundwater at a golf course that has been using irrigation ditch water that is now too expensive. For more information you can reach Jay or Bonnie Shaw at National Groundwater Surveyor at 559-298-2409. Go to www.CaliforniaGroundwaterSurveyor.com for online information.